The conference will be followed by a workshop held on February 9th, 2022, with the theme "Hate speech and media". The workshop is co-organised with AItLA (Italian Association of Applied Linguistics) and will host 5 invited speakers and a panel discussion.
Invited speakers
Oliver Niebuhr  
Oliver Niebuhr is Associate Professor of Communication at the University of Southern Denmark and the head of the CIE Acoustics Lab in Sonderborg. Furthermore, he is Associate Editor of the Internation Journal of Phonetic Science (Phonetica) and the Journal of the International Phonetic Association (JIPA). Outside his academic activities, Oliver Niebuhr co-founded the speech-technology company AllGoodSpeakers Aps and its German branch charismatischer.de. His main research interests are in the perception and digital processing of phonetic signals, with special emphasis on prosodic forms and functions, the links between sound segments and prosody, and perceived speaker traits like charisma – also with respect to their application in human-machine interaction.
Filippo Domaneschi
Filippo Domaneschi insegna all'Università di Genova dove dirige il Laboratory of Language and Cognition. Ha pubblicato numerosi articoli su riviste scientifiche internazionali e ha coordinato progetti di ricerca sul tema dei processi cognitivi coinvolti nella comprensione linguistica. È autore di Introduzione alla pragmatica (Carocci), Presuppositions and Cognitive Processes (Palgrave Macmillan) e, insieme a Carlo Penco, di Come non detto. Usi e abusi dei sottintesi (Laterza). Per Einaudi ha pubblicato Insultare gli altri (2020).
Stefania Iannizzotto
Stefania Iannizzotto è assegnista di ricerca in Linguistica italiana all'Università di Firenze, si è occupata di storia dell'italiano cinquecentesco e ottocentesco, di italiano trasmesso e di semplificazione del linguaggio amministrativo. Dal 2010 collabora con l'Accademia della Crusca, fa parte della redazione della consulenza linguistica e del sito web e cura i canali social ufficiali.
Viviana Patti, Università degli Studi di Torino
Round Table
Massimo Pettorino
Massimo Pettorino (moderatore) è studioso della lingua parlata, che ha ascoltato e analizzato negli anni con l'attenzione del fonetista e la passione dell'ottimo comunicatore.
Le sue ricerche all'Università "L'Orientale" di Napoli si sono concentrate sulle caratteristiche del parlato televisivo, doppiato, politico, patologico; sull'acquisizione della prosodia in lingua seconda, la percezione dell'accento straniero,
l'identificazione dello speaker. E' stato coordinatore del Gruppo di Studio sulla Comunicazione Parlata fino al 2015.
La fonetica sperimentale, Le teste parlanti.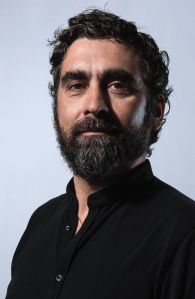 Bruno Mastroianni
Bruno Mastroianni (relatore). Giornalista, filosofo, collabora con RaiPlay social media strategist. Studia i litigi, i conflitti e le discussioni soprattutto nelle interazioni digitali. Ha teorizzato la disputa felice, un metodo per dissentire senza litigare online e offline. Assegnista di ricerca all'Università di Firenze, insegna Teoria e pratica dell'argomentazione digitale all'Universita di Padova. www.brunomastro.it
Chiara Valerio
Chiara Valerio (relatrice). Scrittrice, saggista, editorialista e autrice radio e tv. Sperimentatrice della lingua e degli stili, nello scritto e nel parlato. Attraverso gli studi matematici che l'hanno portata alla letteratura ha collegato la razionalità delle leggi e del diritto a quella del linguaggio matematico.
Spiaggia libera tutti (Mondadori), Il cuore non si vede (Einaudi), Storia umana della matematica (Einaudi), La matematica è politica (Einaudi).
https://it.wikipedia.org/wiki/Chiara_Valerio
Amalia Caputo, (relatrice) Università degli Studi di Napoli Federico II